ON-DEMAND WEBINAR
DataOps: The Foundation for Your Agile Data Architecture
Achieving agility in data and analytics is hard. It's no secret that most data organizations struggle to deliver the on-demand data products that their business customers demand. Recently, there has been much hype around new design patterns that promise to deliver this much sought-after agility.
In this webinar, Chris Bergh, CEO and Head Chef of DataKitchen will cut through the noise and describe several elegant and effective data architecture design patterns that deliver low errors, rapid development, and high levels of collaboration. Chris will cover:
DataOps, Data Mesh, Data Fabric & Functional Design architecture patterns;

Where Data Fabric fits into your architecture;

How different patterns can work together to maximize agility; &

How a DataOps platform serves as the foundational superstructure for your agile architecture.
---


About the Speaker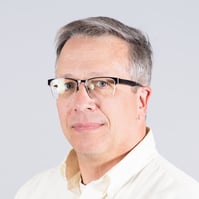 Christopher Bergh is the CEO & Head Chef of DataKitchen, a DataOps software & services startup. Chris has more than 30 years of research, software engineering, data analytics & executive management experience. At various points in his career, he has been a COO, CTO, VP & Director of Engineering. He is a recognized expert on DataOps & speaks about DataOps at many industry conferences. Chris is the co-author of The DataOps Manifesto, The DataOps Cookbook & Recipes for DataOps Success. You can follow him on Twitter @ChrisBergh.