ON-DEMAND WEBINAR
DataOps: The New Norm in Pharma
Pharma is rich in data and, increasingly, pharma companies need to compete on the basis of their analytic capabilities to stay ahead of their peers. Yet often internal data teams can't deliver high-quality, on-demand insight because of the complexities of their data, market, and organizational structures.
Modern pharmaceutical companies are using DataOps to make better, faster decisions across the organization – from research to commercialization. Chris Bergh shares how four pharmaceutical companies are quickly identifying new opportunities, improving research efficiency, and accelerating new product adoption by following DataOps principles that:
Virtually eliminate data errors;

Deliver new analytics at high speed;

Foster collaboration across complex teams using diverse tools; &

Dramatically increase data team productivity.
---

About the Speaker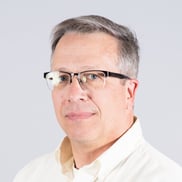 Chris Bergh is Co-Founder, CEO & Head Chef of DataKitchen, a DataOps software & services startup. He has more than 30 years of research, software engineering, data analytics & executive management experience. At various points in his career, he has been a COO, CTO, VP & Director of Engineering. Chris is a recognized expert on DataOps. He is the co-author of The DataOps Cookbook & The DataOps Manifesto & a speaker on DataOps at many industry conferences. You can follow Chris on Twitter @ChrisBergh.