LIVE WEBINAR
How DataOps Enables a Data Fabric
WED, APR 28TH |

1 PM ET / 6 PM GMT


A Data Fabric is a new, exciting architecture that simplifies data management across multi-cloud and on-premise environments and accelerates digital transformation.
Join our webinar on Wednesday, April 28th to learn how DataOps enables a Data Fabric. Specifically, Chris Bergh will cover:
The promise of a Data Fabric;

The secret to data & analytics agility;

Which comes first - a Data Fabric or DataOps; &

How a DataOps platform supports your Data Fabric initiative.
---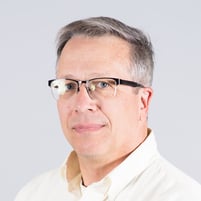 Chris Bergh is CEO and Head Chef at DataKitchen, a DataOps software and services startup. He has more than 30 years of research, software engineering, data analytics, and executive management experience. At various points in his career, he has been a COO, CTO, VP, and Director of Engineering. Chris is a recognized expert on DataOps. He is the co-author of the DataOps Cookbook and the DataOps Manifesto, and a speaker on DataOps at many industry conferences.
You can follow Chris on Twitter @ChrisBergh or connect with him on LinkedIn.